Why Sustainable Seafood Matters to Summit House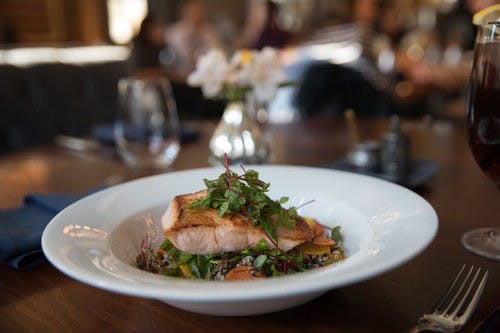 By Martin Kester, Executive Chef
It's becoming impossible to ignore the dire state of the world's oceans and the degree to which they are overfished. Sourcing and supporting programs that push farm-raised industry standards towards the highest sustainability and lowest environmental impact is an initiative Summit House fully embraces.
As consumers and restaurants, we have great power create change by educating ourselves about the foods we choose to purchase and sell.
Our seafood is carefully sourced by purveyor Sona-Far Hills Seafood, drawing from sustainable, wild and farm-raised sources as approved by the Monterey Bay Aquarium Seafood Watch, which helps consumers and businesses choose seafood that's fished or farmed in ways that support a healthy ocean, now and for future generations.
Summit House focuses mostly on local East Coast species and we do proudly offer some excellent farm-raised fish.
Our raw bar program highlights local East Coast shellfish with some seasonal offerings from around the country. We regularly feature three species of Crassostrea virginica, more commonly known as the Eastern oyster. Focusing on a single species is a great way to highlight the source of the oysters, as the flavor profile, much like wine, varies significantly depending upon the waters in which they are raised.
One of the oyster companies we work closely with is 40 North Oyster Farm. They are currently farming oysters on several separate leases along the Barnegat Bay. For centuries, New Jersey was home to a vibrant oyster industry until a bacteria outbreak in the 1950s led to a collapse of the ecosystem. Today, there are only a handful of recently formed oyster farms in New Jersey working to rebuild the industry and our waterways. In addition to being a truly delicious local product, it's revival will have a truly beneficial impact on our local environment. If you haven't taken a moment to watch our day visiting 40 North, it's worth the time. And so is any effort you make to think sustainably when consuming seafood.