We offer 120 distinct whiskies. June is Summit House Whisk(e)y Month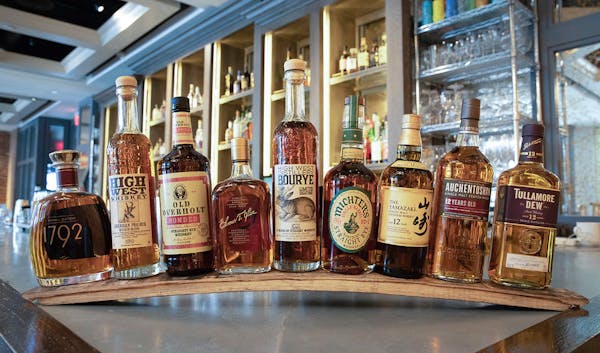 With 120 whisk(e)y labels on premises, Summit House is proud to offer one of Northern New Jersey's most comprehensive collections. We've taken a snapshot from around the world, offering a broad landscape of varieties at all different price points. Hopefully, your go-to bottle is already on our list.
That said, it's not enough to simply boast about the depth of our bar as our rarer bottles simply get dusty. Our goal is to give guests the opportunity to enjoy these fantastic brands, to explore new tastes and to learn about this amazingly diverse industry.
Liquor drinkers tend to stay in their lane, ordering the same one or two brands every time they step up to the bar. And this makes sense. It can be a pricy endeavor to explore this terrain. Throughout June, as we celebrate dads and also welcome moms, we'll make the research easier and more affordable, with a drink menu that includes three superb whisk(e)y flights:
The American. $18.
Varieties of local staples bourbon and rye
1792 Small Batch; High West American Prairie; Old Overholt Bonded

The Allocation. $25.
Geographically rationed labels: there's only so much available each year
Elmer T. Lee; High West Bourye; Michter's Straight Rye -- $40

The Worldly 12s. $40.
A taste of elite whisk(e)y from around the globe
Yamazaki 12-year; Auchentoshan 12-year; Tullamore DEW 12-year -- $65
Whisk(e)y* 101

*For starters, how do you spell it? In Scotland, Japan and Canada it's without the "e," though some brands break that rule.
Bourbon & Rye
Traditionally from Kentucky, these browns are, by law, made from either 51 percent corn or rye, though many distillers far exceed. Bourbon tends towards sweeter caramel and vanilla tones (1792 Small Batch, High West American Prairie, Elmer T. Lee). Rye, a much heartier grain than corn, yields spirits that have an assertive, spicy tone (Old Overholt Bonded, Michter's). A blend of the two types is new to the scene (High West Bourye) and as elusive to encounter as the jackalope on the label.
Worldly Whiskies
Scotland has always ruled the roost, with "Single Malt" being the top dog (Auchentoshan 12 yr). Single means it comes from a single distillery and malt means that all the grain used is malted barley. Beyond this, the range of flavors is very dynamic, from fruity to deep smoky. Irish Whiskey, considered the birthplace of all Whiskey since 6th century A.D., tends to present a cleaner fruit and nut note (Tullamore DEW 12yr). Lastly, a newcomer to the scene, our Japanese Whisky (Yamazaki 12yr). Japan started producing whisky about a century ago, using Scotland's efforts as its model. Japanese labels are highly sought out and rare to find stateside.
Keep exploring, folks. It's worth it.