Many Shades of Pink as Our Wine List Evolves for Summer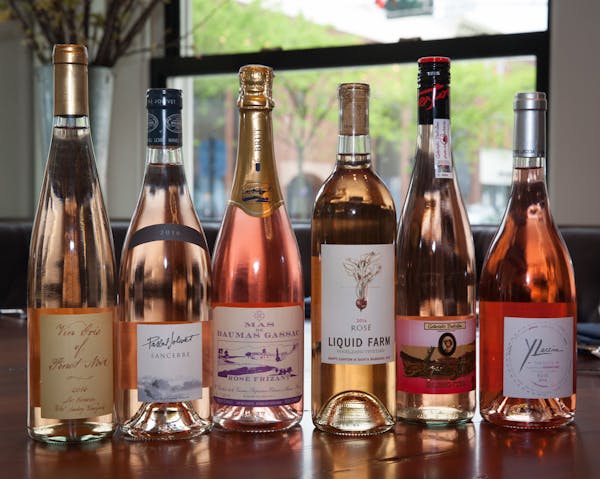 The U.S. market took a bit longer than those in most mediterranean cultures to realize chilled pink wine is more than just tasty and refreshing; it's a perfect complement to the foods of late spring and summer.
But caught on, we have. For the past five years or so, rosés have become the drink of summer and the current Summit House wine list reflects this trend. So, as Northern Jersey heats up this week and we head toward summer, take a look at some of the rosés we're serving:
Robert Sinskey, "Vin Gris," Carneros, California, 2016 -- Its 25th vintage. Mr. Sinskey was one of the first American winemakers to branch out in to rosé, helping to popularize it since 1991.
Pascal Jolivet, Sancerre, Loire Valley, 2016 -- Like the Sinskey, it's made with Pinot Noir and from that grape has a light blush color and a zippy acidity. Perfect complement to high-acid foods such as local heirloom tomatoes.
Mas de Daumas Gassac, Cabernet Sauvignon, Vin Mousseux, France, 2016 -- One of the first sparkling Cabernet Sauvignons that I've had the pleasure of trying. From the Languedoc of Southern France. Plus, its Bubbly :)
Liquid Farm, "Vogelzang Vineyard," Happy Canyon of Santa Barbara, California, 2016 -- Made from the Provençal grape Mourvedre by the Nelsons of the Central Coast, mainly from the region of Happy Canyon. It certainly lives up to its name.
Ameztoi, "Rubentis," Getariako Txakolina, Basque, Spain, 2016 -- From the region know as Txakoli in Northern Spain. It's made from Hondarrabi Zuri and Hondarabbi Beltza. These two grapes are known to pair with the local crudo and raw shellfish dishes of the region and the rosé follows suit nicely.
Yves Leccia, Nielluccio, Patrimonio, Corsica, 2016 -- This Corsican delight is made from the grape Niellucio, which for the longest time was thought to be closely related to Sangiovese. It does have the zingy nature of Sangiovese, but has a certain weight that allows this rosé to pair well with grilled meat dishes. Especially Chef Marty's Grilled Pork Chop.