House Favorites: Wine Selections from our Certified Sommeliers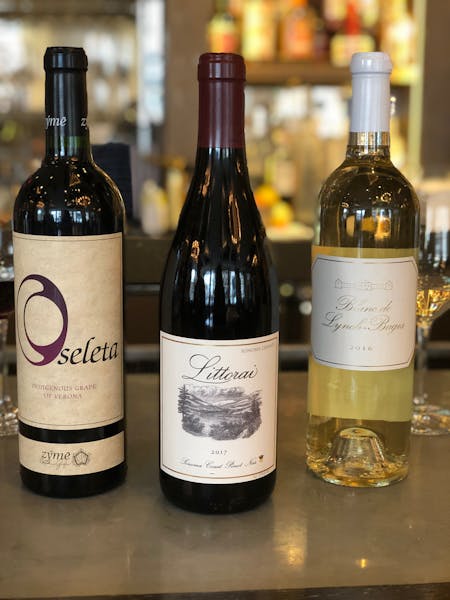 Summit House General Manager Justin Lord and Head of Operations Lindsay Borenstein are both Certified Sommeliers and each holds a degree from the Culinary Institute of America. That similar background doesn't keep them from having their own views on wine, including which bottles at Summit House are currently their favorites. Ask for either Justin or Lindsay when you're in the restaurant and they'd love to recommend a wine that's exactly what you are looking for.
Justin Lord, Summit House General Manager: Formerly at three-star Michelin-rated per se in Manhattan, Justin spent over seven years as sommelier before taking on the role of General Manager at Summit House. He focuses on wines that are unique. He lives to discover "up-and-coming" winemakers who have yet to become overly expensive, and loves exquisite wines from distant locales. Justin also experiments with all forms of fermentation (Beer, Cider, Wine) in his spare time at home. Here are a few of his favorites -- all currently on the Summit House wine list
Blanc de Lynch-Bages, Bordeaux 2016 $175
Chateau Lynch-Bages has always been the shining underdog of Bordeaux. Although only a Fifth Growth, they have been producing world-class wines for years. Their white is a relatively recent addition, starting in 1990. The vivacity of Sauvignon Blanc is a perfect foil to the dried fruits and apricot flavors of the Semillon in the blend. (Summit House pairing suggestion: Korean chicken sandwich, Grilled octopus, Skate)
Zymé, "OZ," Veneto, Italy 2009 $165
I love this wine. My favorite region for reds is Bordeaux and although this wine hails from the Veneto (home of Amarone), it captures some of my favorite Bordeaux qualities. Cigar box and cedar with a touch of dried flowers and pomegranate. The grape in this is Oseleta, a minor blending grape in Amarone. Here it takes full-on center and solo stage, warming the hearts of its audience. (Summit House pairing suggestion: Lamb shank, Short rib (Valentine's Day menu)
Littorai, Sonoma Coast, California 2017 $140
Ted Lemon, who in the 1970s became the first American to head a domaine in Burgundy (at 25 years old mind you), eventually landed in Sonoma Coast, openingLittoraiwith his wife, Heidi. Since 1993, the vineyard has produced lovely and poignant pinot noirs. A wonderful interplay of cherry fruit, minerality, acid and tannin. (Summit House pairing suggestion: Duck, Rabbit pappardelle)
-----------------------------------------------
Lindsay Borenstein, Summit House Head of Operations: Lindsay's diverse career background began with working as cook at Ninety Acres, where she developed a passion for the science of food and beverage pairing. Prior to joining our team to open Summit House, the Culinary Institute of America grad spent a couple of years in Napa, California, teaching the elements of wine and beverage service to senior CIA students, while opening multiple restaurants under the CIA umbrella.
Nickel & Nickel, "Hayne Vineyard," St. Helena, California 2015 $275
Having lived just a stone's throw away for three years might have a little something to do with my affinity for Hayne Vineyard, but that certainly doesn't mitigate the power of this single-vineyard wine's expression. Moderate sized vines planted along the warm, gravelly loam soils of St. Helena produce a powerful, elegant Cabernet Sauvignon. A prominent mouthfeel with opulent dark, jammy fruit, juicy blackberry and rich, integrated tannins caused this wine to be my pick among hundreds in the 2015 PNV (Premiere Napa Valley) barrel tasting, and continues to warm my heart as I bring back for another sip. (Summit House pairing suggestions: Lamb shank, Black angus strip, SH burger.)
Lang & Reed, Chenin Blanc, Napa Valley, 2017 $70
I guess you could say Chenin Blanc is 'my thing.' Stylistically transcendent, this darling of a grape can do it all; sparkling, sweet, bone dry. Long inspired by the Loire Valley, Tracy & John Skupny made it their mission to revive Chenin's reputation along the North Coast. With just 14 acres remaining in Napa Valley, they have enhanced the essence of classic Loire through the charisma of California's sunshine. A generous mouthfeel met with crisp acidity, warm peach skin, honeysuckle, and a touch of honeycomb. (Summit House pairing suggestions: Mushroom risotto, Barnegat Light scallop, Rabbit pappardelle, Berkshire pork chop, Wester Ross salmon)