Confessions of a Rosé Convert, and an Introduction to the Porron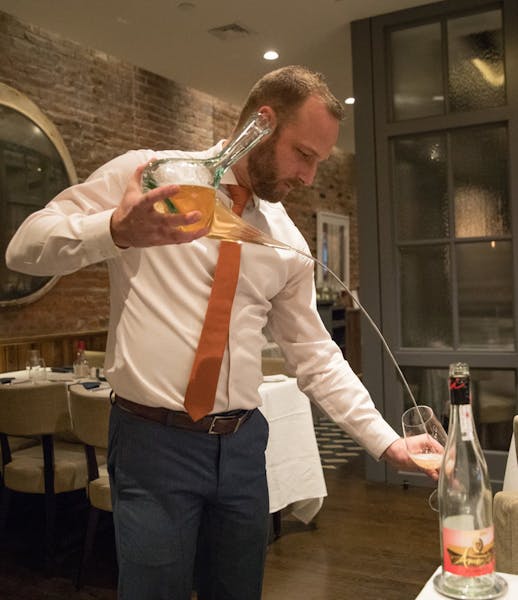 By Justin Lord, Summit House General Manager

It took me a long time to realize I do not just like rosé; I love it. As a former lead sommelier at Per Se in Manhattan, for years I thought of rosé simply as a seasonal "must-have" on our wine list. In the last couple of years though, I've come to think the same way my friends do on the topic: ROSÉ IS AWESOME! Its high acidity and light fruit flavors are a wonderful match to the vegetables and fruits of spring and summer time. I am a full-fledged convert and the Summit House wine list will reflect as much in 2018.

Below are a few wines you'll see on our list this year:
Ameztoi, Rubentis, Txakolina 2017
Order the Ameztoi and it will arrive in a porron (that's me pouring from one above), a traditional Catalonian drinking vessel. Crafted so that all guests can drink from the same glass without touching it to their lips, that's a messy proposition. Instead, we'll serve your rosé from the porron, giving you a glimpse at this cool wine accessory in action, while helping the rosé to breath some oxygen.
The Ameztoi one of the few rosés to make it back on our list from last year. The new 2017 is explosive with minerality and fizz. The bubbles are naturally occurring and not a flaw, so no need to call your waiter back to the table. Just enjoy it.
Muga, Rosado, Rioja 2017
Made from Garnacha, Viura and Tempranillo. Many Rosado producers have started using international varieties (Cabernet Sauvignon/Merlot), but not Muga. They stick to their guns. It's difficult to find a better quality rosé for the price. Raspberry and citrus are the predominant flavors.
Chateau de Trinquevedel, Tavel, 2017
Coming from the only region (AOC) to produce only rosé – Tavel. This wine has some serious structure and length of finish. It is a touch darker than most rosés (usually people tend to think darker rosés are sweet; this is not the case). The color comes from a two-day cold maceration, much longer than most.