Say Hello to the Summit House Summer Cocktails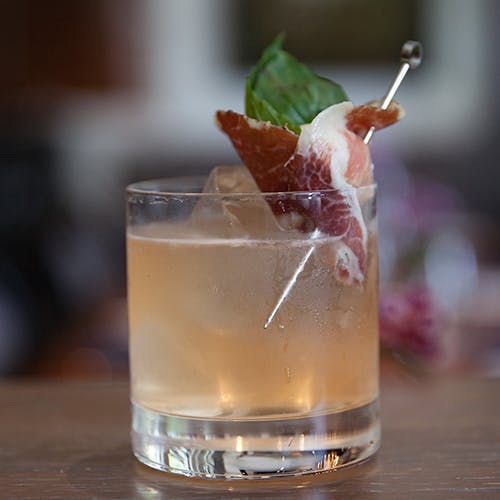 With summer suddenly upon us and Summit House now open for Sunday Farmer's Market Brunch, lead bartender Bobby Frascella created a number of new cocktails perfect for early Sunday afternoon or any time your want to feel as though you're on vacation. All ingredients other than spirits, bitters, and sodas are made by Bobby, and the garnishes are prepared fresh on a daily basis by our bar staff. And if you haven't checked out brunch yet, service runs from 10:30 a.m. till 2:30 p.m. on Sundays. We begin serving alcohol as soon as the clock strikes noon, the earliest currently allowed in Summit. Stop in then or any night of the week and let us know what you think.
Jerry's Caprese Shrub: (Served only during brunch) Jerry's Vodka, tomato-basil shrub and BBQ bitters, garnished with a coppa "flower," a slice of capocollo filled with a mozzarella ball and and basil leaves. A light, refreshing alternative to the bloody mary, shrub (basically a combination of fruit, sugar, vinegar, water) has its origins in 17th-century England, where vinegar was used as an alternative to citrus juices in the preservation of berries and other fruits for the offseason. Fruit preserves made in this fashion were themselves known as shrubs and the practice carried over to colonial America.
By the 19th century, typical American recipes for shrubs used vinegar poured over fruit (traditionally berries), which was left to infuse anywhere from overnight up to several days; afterwards, the fruit would be strained out and the remaining liquid would be mixed with a sweetener such as sugar or honey and then reduced to make a syrup. The sweet-and-sour syrup could be mixed with either water or soda water and served as a soft drink, or it could be used as a mixer in alcoholic cocktails.
Framboesa Beret: Avua Cachaaca, raspberry-mint syrup and limes, garnished with fresh raspberries and mint.
The addition of raspberry (Framboesa in Portuguese) and mint to the classic Caipirniha, the national drink of Brazil, gives it that extra spring/summertime punch.
Melón de Vida: Vida Mezcal, Melon Puree, Honeydew Syrup, lime, Bittermens Hellfire bitters, soda, garnished with cantaloupe balls.
The combination of smoke from the spirit and the light sweetness of the honeydew is a great way for newcomers to Mezcal to enjoy, but not feel overwhelmed but its unique vegetal and smokey qualities.
Mezcal is growing in popularity every day and is one of Bobby's favorite spirits with which to work.
SPF 30: Plantation pineapple, Mezan XO, grapefruit oleo-saccharum, pineapple syrup, lime, angostura bitters, garnished with pineapple leaves.
Looking for a drink to get you into beach or pool mode without having to deal with the traffic and blazing heat? Here you are!