Rosé Season Is Here! Bottles We're Loving Right Now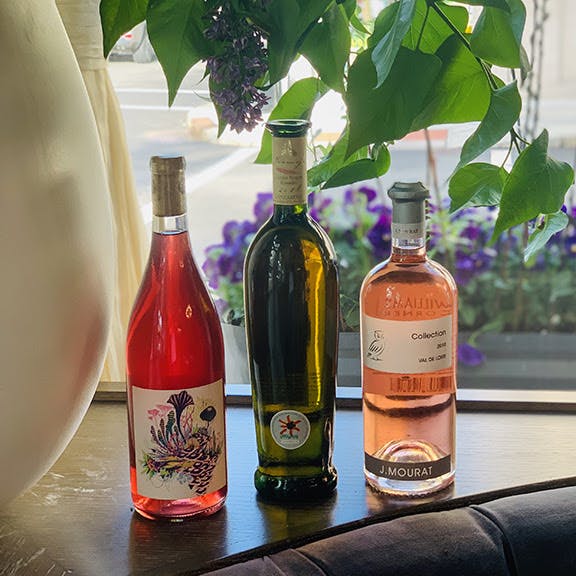 With rosé season now blooming, Summit House General Manager Justin Lord discusses a few bottles he's excited to share with guests this spring and summer:
J. Mourat, Pinot Noir/Cabernet Franc/Négrette, "Collection," Fiefs Vendéens, France 2018 $40
This is a special wine from the barely known region of Fiefs Vendéens, situated on the western coast of France, south of the Fleur de Sel salt beds of Nantes. The size of the whole region is smaller than most large California estates. Here, they grow all the varieties of the Loire and blend them to their liking: Pinot Noir, Cabernet Franc, Chenin Blanc, Sauvignon Blanc, etc. It's one of the few places in the Loire that allow for the blending of these grapes, as most regions require mono-varietal bottlings. The Pinot Noir brings freshness, acidity and minerality while the Cab Franc brings a tinge of deeper color, citrus flavors like lime and grapefruit.
Los Bermejos, Listán Negra, Lanzarote, Canary Islands 2018 $60
There is so much to say about this wine, though I'll keep it brief and potent. It's from Lanzarote, the easternmost Canary Island, a Spanish territory off the coast of Africa. Here, winemaking dates back to the late 1400's. Shakespeare even quoted their winemaking qualities in Twelfth Night: "O knight thou lackest a cup of canary". Besides history, the volcanic soils here allow for great vine age on original rootstocks. Many vines are more than a century old and each protected from wind and tempests by small craters that house them. This rosé is perfumed and balanced. The locally popular Listán Negra grape brings a nervy acidity and salty roundness at the same time.
Eric Kent, Pinot Noir/Syrah/Grenache, Sonoma County, California $65
I tried this deeply hued gem for the first time last year and it made a huge impression. It's one of the few returners from last year's list. Beyond the awesome and stunning label is a lovely expression of the delicate fruits of pinot noir combined with the weight and structure of syrah and grenache. This wine is a darker color style of rosé that may cause a slight hesitation from some consumers. But remember darker does not mean sweeter. The color comes from longer skin contact which usually means more character and complexity. This has both.
About Justin Lord, Summit House General Manager: Formerly a sommelier at three-star Michelin-rated per se in Manhattan, Justin left to join Summit House's debut team in 2017. He focuses on wines that are unique. He lives to discover "up-and-coming" winemakers who have yet to become overly expensive, and loves exquisite wines from distant locales. Justin also experiments with all forms of fermentation (beer, cider, wine) in his spare time at home.